In low­-resource settings, keeping accurate records of childhood immunizations is a vital step in ensuring that all children receive the vaccinations that they need to grow, live, and thrive.
VaxTrac, is a clinic-based vaccination registry system which health workers can use in the field to enroll children and track their immunization records. It eliminates the need for paper-based cohort books, tally sheets, and monthly reporting forms and improves health workers accuracy and efficiency.
eHealth Africa is currently the official steward and main implementer of the VaxTrac software.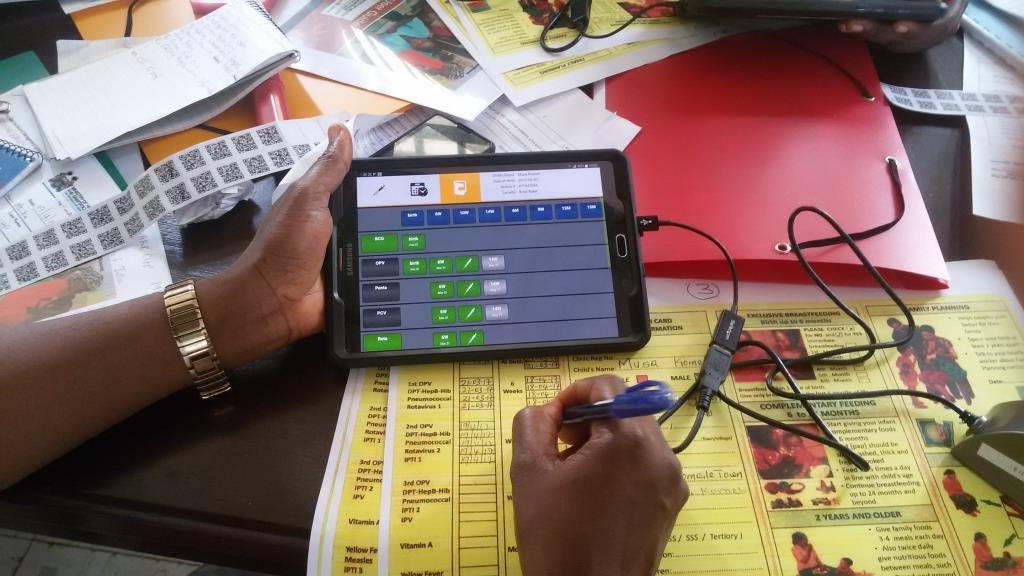 VaxTrac technologies improve immunization service in three important areas. First, providing digital tools to front-line health workers, ensures that each child receives the proper vaccines in a timely manner, and give clinicians more time to focus on their patients. Second, aggregating data automatically in the cloud streamlines processes for health systems administrators, illuminating trends and enabling rapid response to challenging situations. Third, exporting data to complementary systems, multiplies impact by speaking a common language with other technologies.
The cornerstone of VaxTrac is its clinic-based vaccination registry system. The system consists of an Android tablet with cell or wifi connectivity and a fingerprint scanner. These clinic-based systems are able to work offline and regularly synchronize with neighboring clinics through the cloud, ensuring patients can be properly treated. The system augments the clinical workflow and assists health workers in providing vaccinations.
VaxTrac makes it simple for immunization data to be shared through a country's information systems. Creating isolated or siloed system is often counter productive. Appropriate data needs to be exportable to related health management information system applications.
Sierra Leone is VaxTrac newest implementation. Working hand-in-hand with VaxTrac and the Child Health Division at the Ministry of Health and Sanitation, we support the initial project design and implementation in 50 urban health facilities in Freetown. The first round of facilities launched the system in early November 2016 and the pilot phase ran through May 2017.
Benin
Benin was VaxTrac's first implementation. VaxTrac began working in Benin in 2012, with pilot funding from the Bill & Melinda Gates Foundation (BMGF) to launch the first iteration of a netbook-based vaccine management system in two coastal, semi-urban Health Zones, Allada and Porto-Novo, covering approximately 30 public health facilities. In 2013, with additional funding from BMGF VaxTrac was able to scale up the project and implement the project in the health zones of Allada-Ze-Toffo (AZT) and Porto Novo-Aguegues-Seme Kpodji (PAS).
Nepal
The Vial to Child Project was launched in Nepal in 2014 with joint support from UNICEF, WHO, and the Nepal Ministry of Health and Population. VaxTrac is implemented in two districts, Dadeldhura in the Far Western Hills, and Nawalparasi in the Western Terai, covering a total of just over 60 various types of health centers from rural health posts to a sub-regional hospital. Information mapping activities have been conducted, adapting parts of the data demand and use toolkit from MEASURE Evaluation to identify how data is collected, stored, analyzed, reported on, and used at each level of the health system.